Nura

L

ogix

Researchers Announce

the Capability to

Predict

Risk for
Fatty Liver Disease

and Blood Biomarker Healt

h Issues

Using

Any Video

–
Enabled Device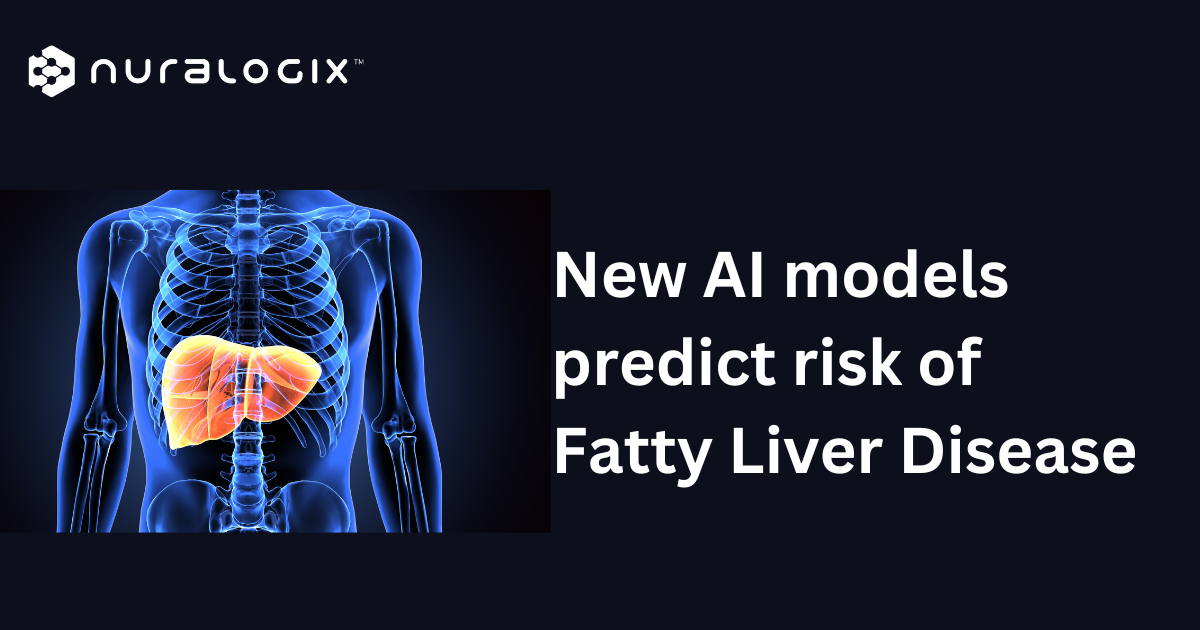 Facial blood flow patterns unlock a wealth of health data in only 30 seconds
(Chicago – April 17, 2023) – Researchers at NuraLogix, a global pioneer of contactless health monitoring through its patented Transdermal Optical Imaging (TOI™) technology, have announced they have developed AI models that can predict a person's risk of having fatty liver disease (FLD) using facial blood flow patterns. This is the latest capability of the company's Anura™ contactless health platform that can take over 30 medical-grade health vitals and numerous health risk assessments using any video-enabled device. Data from the latest research, along with its technology, is being showcased at HIMMS.
In their latest study, NuraLogix researchers trained their machine learning models on the facial blood flow patterns of over seven thousand subjects who were diagnosed with FLD.  The data showed the models' capability to predict whether a subject had FLD with an AUC > 0.85, suggesting a high degree of accuracy. This follows the recent expansion of the platform's capability to potentially monitor HbA1c, fasting glucose, as well as the risk of type 2 diabetes, hypertension, and hypertriglyceridemia.
In 2022, around 24% of the American population was estimated to have FLD. While the condition itself is not fatal, it is the most common cause for liver injury and has the potential to cause liver failure. "Many people with this condition are unaware of it and drift further into metabolic complications," said Dr. Keith Thompson, Chief Medical Officer at NuraLogix. "This research shows the potential of the platform to screen for FLD and help users intervene with necessary lifestyle changes to prevent a 'waterfall' event such as liver failure."
Face The Future
Anura™ is the only video-based contactless health monitoring solution that can measure vital signs and provide health risk assessments. Unlike smartwatches, health trackers, and rings that track blood flow through light sensors, Anura™ can do so with a video selfie. You can see it in action here.
Anura™ is powered by NuraLogix's patented Transdermal Optical Imaging (TOI™) technology, a novel form of Remote Photoplethysmography (rPPG). It automatically detects a person's face, identifies key regions of interest, and extracts blood flow information that is combined with powerful AI data models developed from more than 40,000 patients with multiple health conditions. 
Results are delivered through the Anura™ software showing information on over 30 health parameters* such as heart rate, breathing rate, and cuffless blood pressure, as well as providing health risk assessments for some of the most prevalent chronic conditions. This includes type 2 diabetes, hypertension, cardiovascular disease, and mental health. 
NuraLogix's Anura™'s  capabilities include:
Physiological Health Vitals/Indexes

·       Blood Pressure

·       Cardiac Workload

·       Heart/Pulse Rate

·       Breathing/Respiratory Rate

·       Irregular Heart Rate

·       Heart Rate Variability

·       Facial Skin Age

 

Mental Health/Risk Assessments 

·       Mental Stress

·       Depression Health Risk

·       Anxiety Health Risk

Physiological Health/Risk Assessments

·       T2 Diabetes Risk Assessment

·       HbA1c Risk Assessment

·       Fasting Blood Glucose Risk Assessment

·       Cardiovascular Disease Risks

(10  yr. prediction of risk of death from Heart Attack or Stroke)

·       Hypertension Risk

·       Hypercholesterolemia

·       Hypertriglyceridemia

 
Anura™ is hardware and platform agnostic and performs across most digital consumer and business-to-business health platforms on the market, such as Mobile (iOS and Android), Desktop (Windows, Linux, macOS), Web, Smart Mirrors, Messaging Services, and more. 
With the ability to be delivered as a branded or white-label solution, NuraLogix allows companies from a diverse range of industries to integrate digital health solutions into their offerings.  Sectors such as the mobile industry, telehealth, retail, automotive and smart cities can build software solutions that have the potential to transform the way chronic diseases are identified, managed, and prevented, paving the way to a world where health vitals are continually monitored with just a look at a smartphone, bathroom mirror, TV screen, or kiosk.
To learn more about NuraLogix and the Anura™ platform, please visit www.nuralogix.ai 
About NuraLogix
NuraLogix is the creator of the world's first contactless blood pressure measurement technology. The company's patented Transdermal Optical Imaging (TOI™) technology can measure over 30 health and wellness parameters using a conventional video camera to extract facial blood flow information from the human face. This is demonstrated in the company's groundbreaking Anura™ software.
*In the United States, some features of this product are for Investigational Use Only. The performance characteristics of this product have not been established.