Nura

L

ogix Announces Integration

Availability of its Highly Anticipated
Anura™

Telehealth Platform
The future of telemedicine is here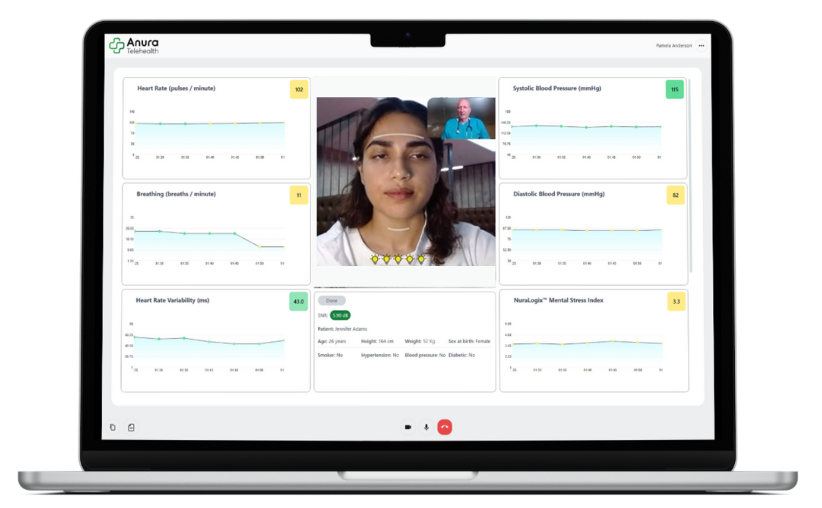 (Las Vegas – October 8, 2023) – NuraLogix, a global pioneer in Affective Ai1, is pleased to announce the availability of its highly-anticipated Anura™ Telehealth solution for integration into healthcare professionals' telehealth offerings. Powered by our cloud based Affective Ai platform, DeepAffex™, Anura™ Telehealth enables real-time assessment of vital signs during video consultation sessions. (Visit us at HLTH2023 booth #2638 for a firsthand demonstration.)
Behind this innovative telehealth solution is NuraLogix' powerful cloud based Affective Ai platform DeepAffex™, which receives facial blood flow data from any device such as a smartphone, tablet or laptop using the device's built-in video camera.  DeepAffex™ then applies advanced signal processing and machine learning AI algorithms to predict over 100 health parameters including vitals such as pulse rate, respiration rate and blood pressure. You can see Anura™ Telehealth in action here.
 Key features of the Anura™ Telehealth solution include: 
Continuous 2-minute vital sign measurement during a video call

Has its own teleconference platform

Can integrate quickly with third-party telehealth solutions via a link

Provides a longitudinal assessment of vitals vs. a snapshot
"The beauty of this solution is the power of AI-Machine Learning in creating the ability to capture over 100 health parameters with a contactless novel form of rPPG," said Dr. Keith Thompson, Chief Medical Officer at NuraLogix. "We are seeing how advanced AI technology can be used not to replace clinicians, but rather to simply improve workflows and reduce the administrative burden of capturing patient data and performing chronic disease screening."
A sample of Anura™ Telehealth's measurements include:
 Vitals/Physical Indexes

·       Blood Pressure

·       Cardiac Workload

·       Heart Rate

·       Breathing/Respiratory Rate

·       Irregular Heart Rate

·       Heart Rate Variability

·       BMI

·       Body Shape Index

·       Waist-to-Height Ratio

·       Facial Skin Age

 

Mental Health

·       Mental Stress

·       Depression Health Risk

·       Anxiety Health Risk

 

 

Metabolic Health Risk Assessments

·       T2 Diabetes Risk Assessment

·       Cardiovascular Disease Risk (10 yr)

·       Heart Attack Risk (10 yr)

·       Stroke Risk (10 yr)

·       Hypertension Risk

·       Hypercholesterolemia

·       Hypertriglyceridemia

·       Fatty Liver Disease

·       Morning Fasting Blood Glucose

·       Hemoglobin A1C

 
To learn more about NuraLogix and the Anura™ Telehealth solution, please visit www.nuralogix.ai or visit booth #2638 in the North Hall- Digital Health Zone for a free demonstration.  
### 
About NuraLogix  
NuraLogix is a pioneer in the development of Affective Ai and the creator of the world's first contactless blood pressure measurement technology. The company's patented cloud based Affective Ai Platform- DeepAffex™ can measure over 100 health and wellness parameters using a conventional video camera and its patented Transdermal Optical Imaging (TOI™) technique to extract facial blood flow information from the human face. This is demonstrated in the company's groundbreaking Anura™ app. 
Notes:
1 – Affective Ai is the intersection between Affective Computing and Artificial Intelligence. It is the ability to recognize, measure, predict and simulate human affects that take the form of physiological and psychological states using AI trained models.